"At University they just taught me the basics in coding, but not the industry technology."
Recent IT graduates are having a hard time finding jobs once they leave University.
And it's not because there are no jobs out there – the IT sector is one of the fastest growing in the world – it's because they're not being taught the right things.
They're not being taught the things that employers are looking for in potential employees.
This is what Ann Le found once she left Uni and started looking for her first job as a software developer. Any positions available wanted local experience with the latest industry technologies, something that she lacked.
Luckily Ann found us, and after joining our job-ready programme, she soon after secured her first job as a software developer.
How did you feel when you got the job offer?
I'm really exciting, cause this is my first job in IT. This is a big step, and a stepping stone for me in IT industry and in my career as well. I'm really excited, it's like my dream come true.
What was your background before joining Industry Connect?
I was doing a degree in business, but I found out in New Zealand is really hard to find a job. So then I studied a bachelor degree in software engineering. After that I joined Industry Connect and started with Aimy Plus. Only two months later I got a job.
How did we help you land your first job as a software developer?
I think most important thing is the soft skills, because I think, from my personal perspective as a junior software developer, they don't have much of the soft skills. The soft skills are important for teamwork or how you work in the industry environment, as well as your own development and self-learning.
What did you learn from Industry Connect that you didn't learn in University?
Actually in university, they just taught me the basics in coding, but not actually in the reward technology, the industry technology. So when I came to the Industry Connect, they teach me about the .NET Framework, the .NET Core as well as the Front-end framework like React and design for the web developer. It's a really big difference, in theory and in practice.
Would you recommend Industry Connect to your friends?
Yes, I really recommend for the Industry Connect because you can learn in small steps. Especially if you are new in the IT industry, you have a mentor to guide you in your first step of your IT career.
Land your first job as a software developer with our help!
University can't teach you everything, especially in an industry that's constantly changing and evolving!
We can help you stay up-to-date with the latest systems, trends, and practices, making your ready to walk into your next interview and nail it!
To find out how, join us for our next online information session.
Juanita Strydom, the General Manager of Industry Connect, will be online on Wednesday evenings, 7:00 pm NZ time, 5.00pm Australia Eastern Standard time and 8:00am UK time.
Joining her will be the Industry Connect team members, as well as the owners of successful software companies, all of whom are ready to answer any questions you may have.
The gang will explain who we are, what our programmes are, and how you can join us.
To secure your seat in the info interview session, simply click here and fill out the form and we'll be in touch to confirm your invitation!
There are jobs out there – are you ready to take one?
Watch Ann Le's video testimonial here:
---
What is Industry Connect?
Industry Connect is a Software Career Launchpad that has everything you need to kick-start your software career in AU, NZ, SG and UK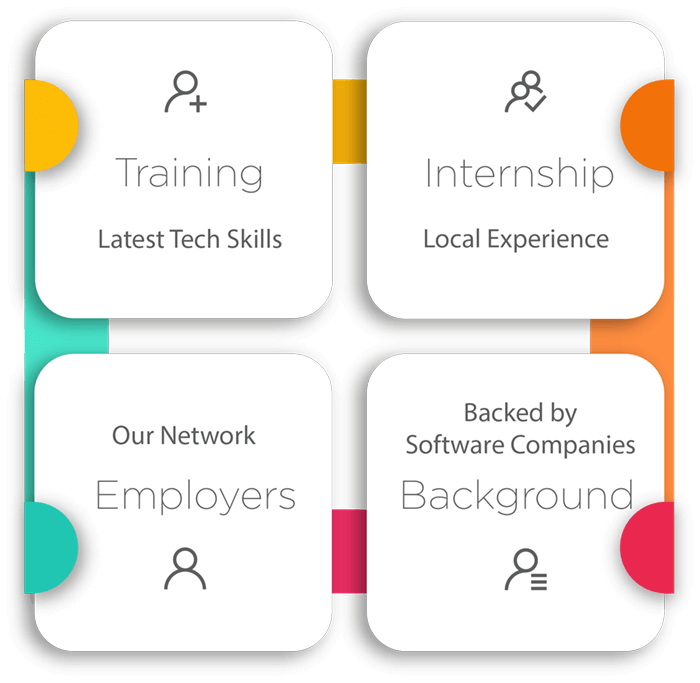 Our ecosystem
We have been helping career changers(software), recent IT graduates as well as people with career gap to start their software careers. Our Job-Ready training programmes focus on software development, business intelligence and test analyst.
Over the years, we have helped hundreds kick-start a software career(Verifiable evidences are available on this website)
OUR CORE
We are an innovative software training school backed by local software companies. Our ecosystem is an incubation process that supports our participants until they launch a tech career.
Watch 200+ Stories of Career Starters in Software
Click the image to watch those who changed their careers to IT, had gap years and recent IT graduates.