"CV is like a DVD cover, do you want to watch it?"
The CV is the very first impression you give to the recruiters, and the purpose of a CV is to land you an interview. Therefore, it is crucial to make potential employers feel extremely conformable to read as well as to be able to find relevant points expected for the advertised role.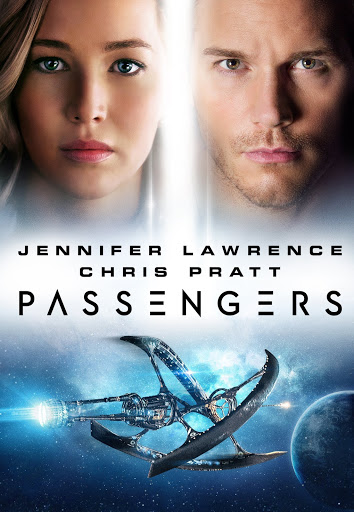 The CV is the very first "look" of you, it's vital to make people like it and CV needs to have relevant points for the role. You are right, I am repeating myself as it is so important, it took me a considerable amount of time to understand all that.
How recruiters read your CV
In order to come up with a great CV for yourself, we need to get an idea of recruiters' behavior when they read your CV. On average, THEY SPEND LESS THAN 10 SECONDS ON YOUR CV. You might think after years of study and hard work in order to finish your degree, this is not acceptable and your fabulous CV deserves to be treated better.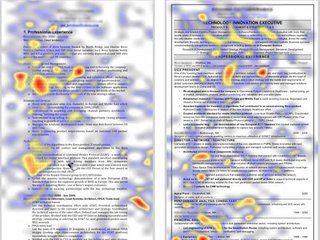 Well, it is the unfortunate fact you need to accept and adapt to as you cannot change it. If you think it is hard to believe, let's put it this way: Mary lists a job on the market, she starts to see applications coming in, she is happy because she sees the response which at least proves her job listing worked; then she opened up the first CV and had a good look at it, she may spend 30 seconds to find out if the ads she put up actually attracted the right candidates. As time goes by, more and more emails come through, shortly it will reach 300 applications. She starts to get less excited by seeing the new ones. SHE THEN WILL SPEND LESS THAN 10 SECONDS ON EACH CV.
What recruiters will look at
Your name or your email address on the email inbox
Email body if and only it is short and polite
Attachment file type and maybe the size
The neatness of your CV. No thick borders or inconsistent layout.
The relevant keywords and information
A few things to note
Names that are extremely hard to pronounce – this may sound offensive to some people but it is a fact
Nothing special – CV looks like computer-generated. Sections such as career objectives, achievements are now being ignored!
Inappropriate design – layout, font including the usage of bold and colors
Length – lengthy and too much irrelevant information
The CV is important as it forms an image of you in recruiters' minds when recruiters look at it, they can roughly tell the personalities or what type of candidates they are dealing with. There is a lot to be noted, just like when you try to pick a DVD for Friday night, you want to find the one you like and not wasting precious time, CV plays the role as the cover of the DVD for recruiters to decide whether you'll be invited or not for the interview.
Download Free CV Templates from Industry Connect
We created some CV templates that are proven to be working very well.
Download CV Templates from Industry Connect
Sometimes it is more practical and realistic to get your CV sorted with experienced people.
In our Software Job-Ready Programme, there are topics covering graduate developer job application which has helped past participants to stand out from the crowd. I encourage you to take a few seconds to read through the programme which may accelerate the hunting process of your first software developer job.
Check out Recent University Graduates Who Secured a Software Job (90+ video case studies)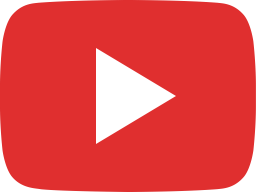 Hannah, a recent grad, is REACT DEVELOPER NOW.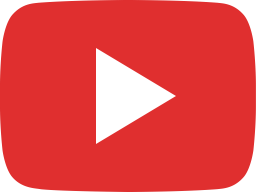 [recent grad]Tristan secured a data analyst developer job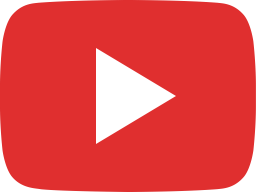 Ryan is a software developer before graduating.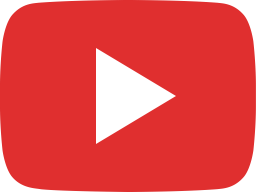 Parvez landed his first ReactJs developer job at AHDB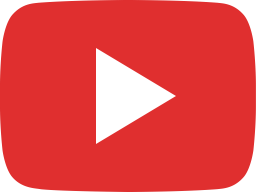 Rossi Le - Frontend Developer at Rotageek, Melbourne.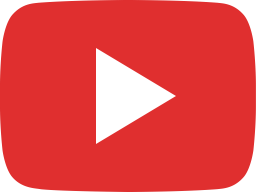 [United Kingdom] It is flexible and a real world place.

Do you want to kick-start your first IT Software job?
1. ✅Are you a recent IT grad or new immigrant?
2. ✅Returning to IT with gap experiences?
3. ✅Switching career to the rewarding IT?
YOU ARE NOT ALONE! – we have helped hundreds like you
🇳🇿AU/NZ/UK INFO-INTERVIEW SESSION 🇦🇺
Meet our team to find out how our innovative programmes:
Tech Training ➕ Software Company ➕ Employer Network
have helped people just like YOU.
⚓Where: Live Face-to-face Meeting via Zoom Online
NOW WHAT?
🎯To get invited, simply click on the link below.
---
What is Industry Connect?
Industry Connect is an IT/Software Career Launchpad that has everything you need to kick-start your IT/software career in AU, NZ, UK, IE, SG, HK, IN, ID, VN & PH.
Industry Connect's Ecosystem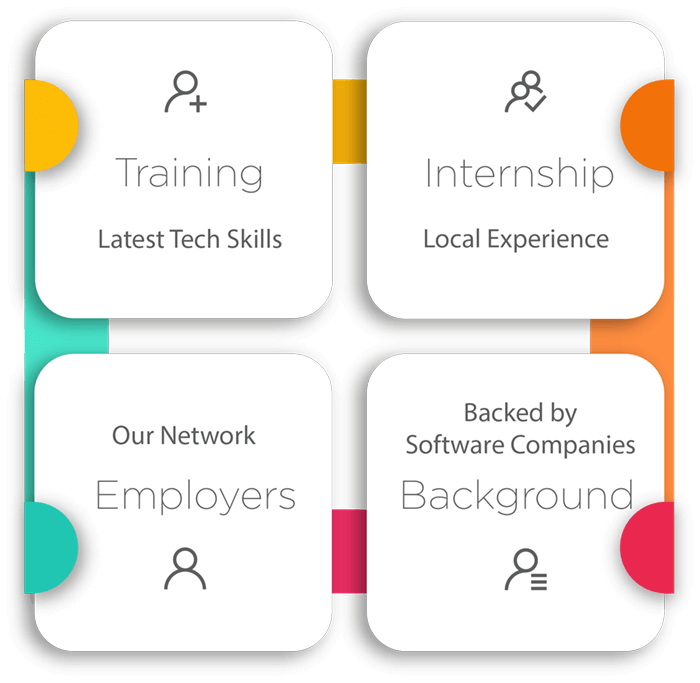 We have been helping career changers, recent IT graduates and people with career gap to start their IT/software careers.
Over the years, we have helped hundreds kick-start an IT/software career. (Verifiable evidences are available on this website)
OUR CORE
We are an innovative software training school backed by global/local software companies. Our ecosystem is an incubation process that supports our participants until they launch a tech career.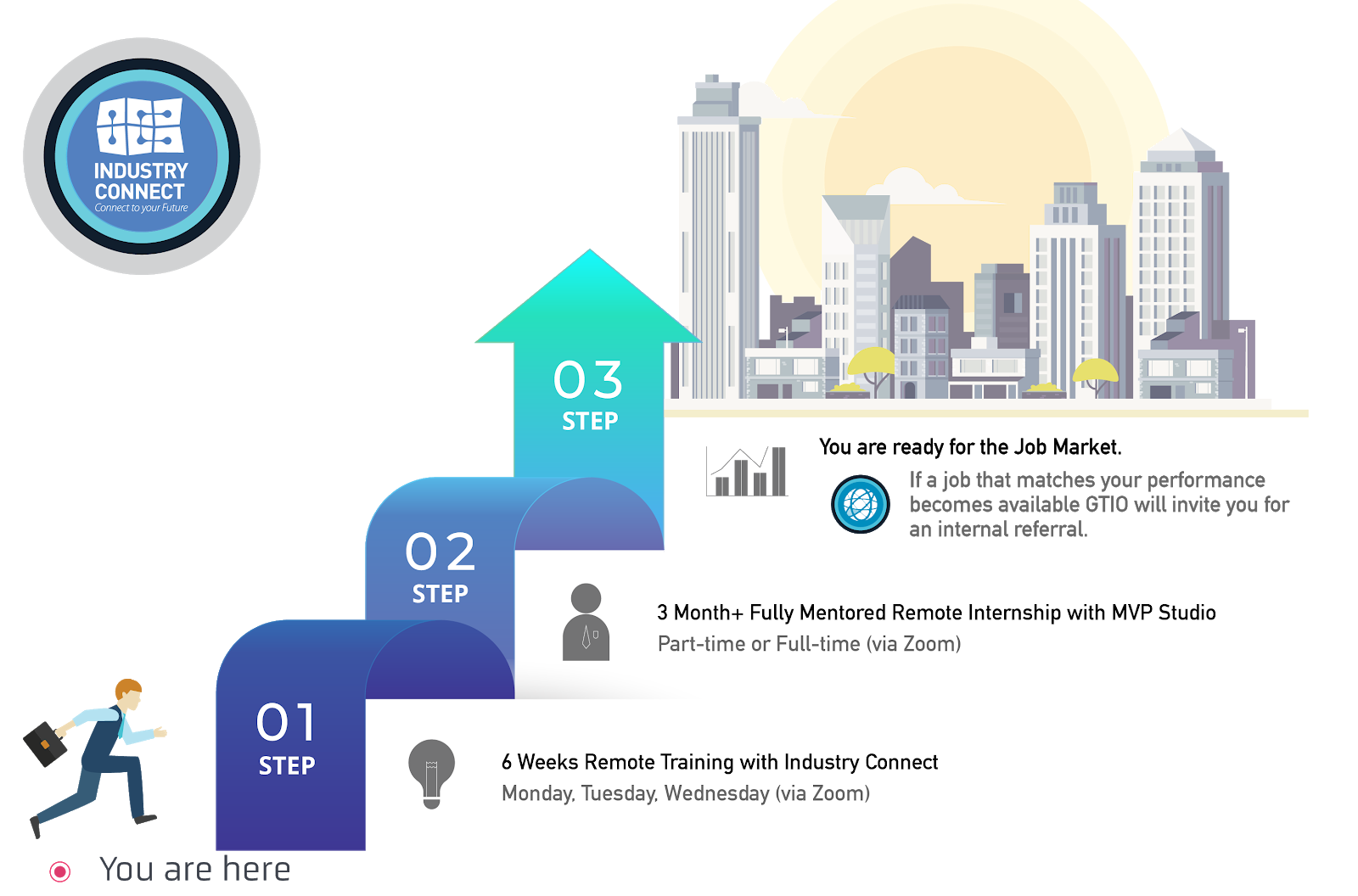 OUR PROGRAMMES
Our Job-Ready training programmes focus on,
Software Development
Business Intelligence (or Data Analyst)
Test Analyst
PROGRAMME STRUCTURE
Six Weeks Training Classes (Practical Tech Skills)
Three Months (or more) Structured Internship on Large Commercial-Scale Projects (Learning enhanced, flexible Hours)
Employer Network (job analysis and internal referral if goals are met)
You can join us via Zoom (live face-to-face meeting) remotely from anywhere and "download" the valuable knowledge & experiences from our tech experts across different tech centres.
Watch 300+ Stories of Career Starters in IT/Software