The Industry Connect boot camp is aimed at international students who have graduated with qualifications in IT, either as a software developer or software testers. The boot camp covers both technical and soft skills, and seeks to prepare participants to be fully job ready by the end. After the boot camp, a networking event is held, where students and potential employers can meet and discuss the industry.
What people thought of the programming boot camp
Rajwinder Kaur
"People are very helpful and all the tutors are experts in their field. They try their best to tell us the details and eccentrics of software testing. I learned lots of things here, and I enjoyed it very much."
Lane Shi
"I enjoyed the programming boot camp because when we left school, we had no idea what the software industry would look like. We also had no idea what to do with the skills we learned at Uni, so this gave us a great opportunity to express what we learned."
Has it made people more employable?
Kedar Badve
"Yes, absolutely the programming boot camp has made me more employable. Employers come here and they watch your performance, so it's a direct exposure to them. They can see how employees work in the boot camp, and what they do exactly. So, yes, this boot camp has given exposure to employees and employers both."
Dev Acharya
"How the IT industry works, what employers want, what experience they want, what their demands are, what technology they want from an employee… I gained those technologies and those experience from this program."
What did the Employers think?
Clive Jones
"I think the networking event this evening has been fantastic. It's really exciting to see graduates and employers in the same room. There's a real buzz, a real energy."
Judi Alttinkaya
"This networking event is a real good example of the kind of skills that are basically on-tap for employers, should they have gaps in their labour force."
Kelly Booth
"We tend to employ a real mix of nationalities, whether they're New Zealand or migrants. I definitely got the opportunity to meet with candidates this evening, and it's certainly a good opportunity to see them in a less formal setting than an interview.
James Field
"I found the networking event really impressive on two points. On the first, the calibre of the students. Seeing those people stand up there and tell their stories, really brings to life the talent that is sitting there. There's 80,000 people sitting out there in a city that screams talent shortages. And on the second point, it was great to see how engaged the employers were. They're sitting there going "actually, I wasn't aware of that," so it's nice to see the lightbulb moment that brings them to this realisation of how we can work together and close this gap.
If you are interested in Industry Connect's programming boot camp, then give us a call today. One of our friendly staff members will be happy to discuss your options.
---
What is Industry Connect?
Industry Connect is a Software Career Launchpad that has everything you need to kick-start your software career in AU, NZ, SG and UK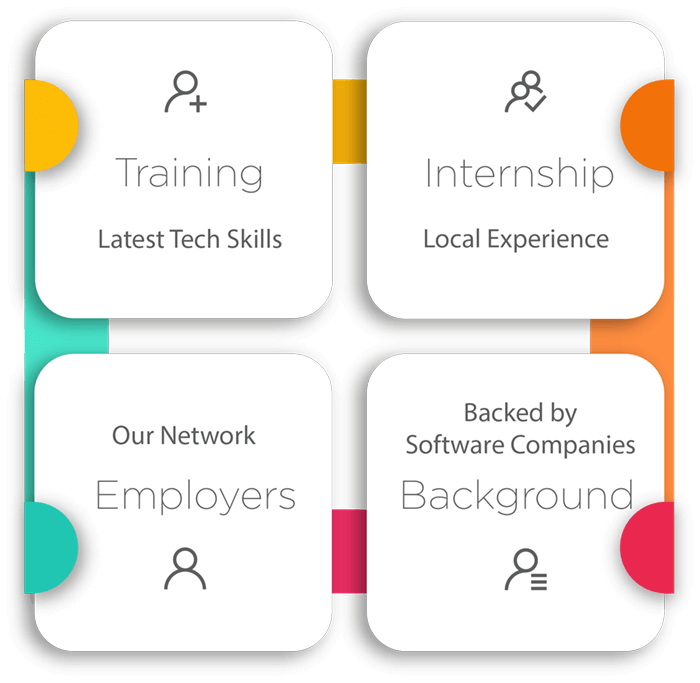 Our ecosystem
We have been helping career changers(software), recent IT graduates as well as people with career gap to start their software careers. Our Job-Ready training programmes focus on software development, business intelligence and test analyst.
Over the years, we have helped hundreds kick-start a software career(Verifiable evidences are available on this website)
OUR CORE
We are an innovative software training school backed by local software companies. Our ecosystem is an incubation process that supports our participants until they launch a tech career.
Watch 200+ Stories of Career Starters in Software
Click the image to watch those who changed their careers to IT, had gap years and recent IT graduates.