A Smart Nation simply means the nation is data-driven, more adoptions of innovative ideas and solutions and government utilises technology to better serve the society.
Digital revolution and advancements in digital technologies are transforming the way we live. Smart Nation is a leading economy powered by digital innovation. The economy is the biggest driver for Singapore's growth. It is supported by the Government, which is leaning forward to support the growth.
Digital Economy, Digital Government and Digital Society are the three main areas to enable the smart nation.
Here are some examples of what life can look like in Singapore's smart nation development.
More data are accessible by the public, and those are collected with more sensors.
More innovation will be supported and funded by the government.
Startup ecosystem development.
Cybersecurity and data privacy.
Education in tech.
Cross border collaboration,
Nationa AI projects
The National Artificial Intelligence (AI) Strategy is a key step in our Smart Nation journey. It spells out our plans to deepen our use of AI technologies to transform the economy, going beyond just adopting technology, to fundamentally rethinking business models and making deep changes to reap productivity gains and create new areas of growth.
There are identified 5 National AI Projects in transport and logistics, smart cities and estates, healthcare, education, and safety and security, where AI technologies will be used to address key challenges and deliver strong social and/or economic impact for Singapore and Singaporeans. The National AI strategy also outlines five key enablers to anchor a vibrant and sustainable AI ecosystem, to drive AI innovation and adoption across the economy.
What Are Your Opportunities?
An estimated 10,000 new tech-related jobs are expected in the private sector over the next three years, thanks to a new government office that will encourage public-private partnerships to help companies digitise and keep up with the rapid pace of technology.
The Digital Industry Singapore (DISG) office, announced by the Minister for Communications and Information S. Iswaran on Wednesday (June 26), will be the "first stop" for companies to seek help in digital industry-related matters.
It is an evident trend that the foreigner tech workers are heading to work in a smart nation like Singapore.
---
What is Industry Connect?
Industry Connect is a Software Career Launchpad that has everything you need to kick-start your software career in AU, NZ, SG, HK and UK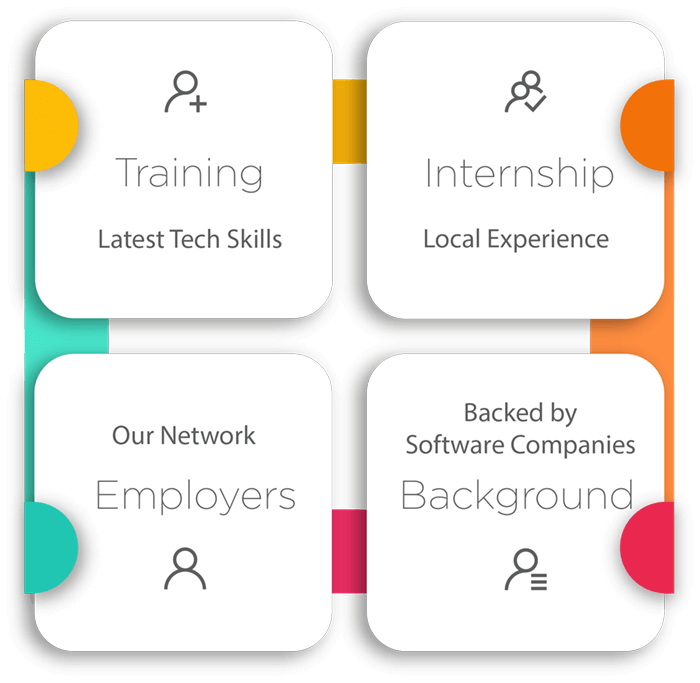 OUR CORE
We are an innovative software training school backed by local software companies. Our ecosystem is an incubation process that supports our participants until they launch a tech career.
Watch 200+ Recorded Success Stories
Click the image to watch