You need to understand the work culture in Australia New Zealand.
You may code like Neo in the Matrix, but it all counts for nothing if you can't get a job!
And how do you get a job?
By being able to work with people. By nailing interviews. By being likable.
All these things fall under the term "soft skills", and soft skills are just as, if not more so, important than technical skills.
No one wants to hire someone who can't work in a team. No one wants to sit beside someone who never speaks.
And we get it – life as an immigrant is tough. English is a difficult language to master, it's not uncommon to be shy why it's not your mother tongue.
But if you want a career in IT here in New Zealand or Australia, then you need to improve your soft skills.
Listen to those who have already been there and done it
A recent Industry Connect graduate over in Sydney landed a job as a Business & Data Analyst and she kindly shared some of her experiences with us.
What would you suggest to people who are struggling in getting their first IT job?
For those people looking in the industry, I would say mostly, first of all, the main thing that you require is your attitude. Your behaviour – your soft skill part of it -you need to get that one sorted out.
You need to understand the work culture in Australia and New Zealand. They look at how you look at the challenge and how you would solve that problem, what initiatives you take, how you work in the team, how you help each other… so those are other main things that you need to look.
Then you can get your technical skills, so as a bi developer I would say you would be working with the SSIS, cleaning the data, summarizing it, loading it into the data warehouse, performing ETL, basically you using the SSIS.
I would still think if you have a good knowledge in SSIS and SSRS that's good enough to enter into the markets. I already recommend to newcomers – the people looking into the BI development – to focus on those parts. You need to understand the A to Z of the data so that you are able to produce any report that we would require from that particular data.
And of course you have to work on your soft skills, which is I think come in every country that you work, so that would be my recommendation.
And also yeah, when you are looking for a job never give up keep looking for it. It can really be quite frustrating at the beginning when you don't get any responses, but once you start to get a little bit more responses – maybe one interview you know, turning into two interviews – and then you slowly develop your skill as well and ultimately will get a job, so that's what I would recommend, never give up!
Would you recommend Industry Connect to everybody?
Watch Her Interview About Industry Connect
Yeah I would definitely. Personally looking at my past I had a five year career break and also I moved to Melbourne so it was a new location for me. I wasn't getting quite the success and I wanted to change my career and become a data analyst but I didn't know where to start.
There is the ocean of knowledge on the internet but not necessarily the right tool and right knowledge from that ocean, so coming to Industry Connect gave me the chance to learn what I needed to learn to get a job.
We had classroom training followed by the internship, we were given practical knowledge in our internship, so I was able to implement whatever I learned and as I try to absorb things I found out.
We even had employability sessions where the trainers helped you build your CVs, make you ready for interviews and improve your soft skills, so I would definitely recommend them, they're great!
Learn essential soft skills from Industry Connect
If your soft skills are not helping you land a job, then we can help. Join us for our next online information session.
Juanita Strydom, the General Manager of Industry Connect, will be online on Wednesday evenings, 7:00 pm NZ time, 5.00pm Australia Eastern Standard time and 8:00am UK time.
Joining her will be the Industry Connect team members, as well as the owners of successful software companies, all of whom are ready to answer any questions you may have.
The gang will explain who we are, what our programmes are, and how you can join us.
To secure your seat in the info interview session, simply click here and fill out the form and we'll be in touch to confirm your invitation!
Soft Skills are everything in an interview! Join us and find your perfect job!
---
What is Industry Connect?
Industry Connect is a Software Career Launchpad that has everything you need to kick-start your software career in AU, NZ, SG and UK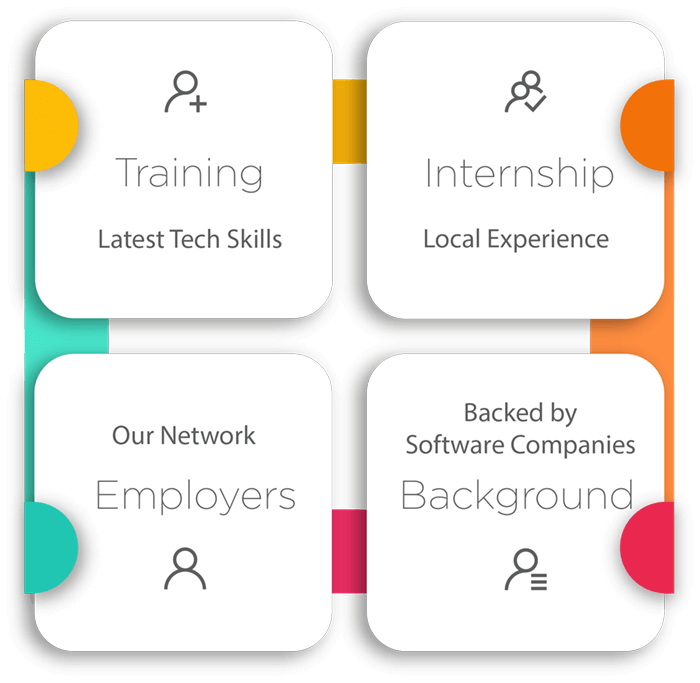 Our ecosystem
We have been helping career changers(software), recent IT graduates as well as people with career gap to start their software careers. Our Job-Ready training programmes focus on software development, business intelligence and test analyst.
Over the years, we have helped hundreds kick-start a software career(Verifiable evidences are available on this website)
OUR CORE
We are an innovative software training school backed by local software companies. Our ecosystem is an incubation process that supports our participants until they launch a tech career.
Watch 200+ Stories of Career Starters in Software
Click the image to watch those who changed their careers to IT, had gap years and recent IT graduates.