Usually there's a gap between University knowledge and real-world experience, and Industry Connect helped me fill that gap.
We hear the same story over and over again here at Industry Connect.
Recent Graduates come out of University and have trouble finding a job.
It's a common problem, and the reason is simple; they have no experience.
No matter how much you learn in a classroom, it's not the same as real-world experience.
Employers don't want to waste their time and money with someone who doesn't know what they're doing. They want candidates who can say "Yes, I've worked on a live project, and yes I know how to do that."
They want to hire people who have already proven they can work in a team.
Unfortunately for recent graduates, none of these things happen at University.
So how do you get experience without having a job?
It's easy – you call us.
Tristan joined us and 6 months later he's a BI Developer
Another example of our success in finding people jobs is Tristan. He joined us 6 months ago, and recently has secured his dream job in the industry as a Business Information Analyst at Waikato DHB.
Before he started on his new career, we caught up with him to ask about his time with Industry Connect.
First of all, congratulations on your new position! How did you feel when you got the job offer?
Actually it was very exciting because I just graduated last year and in only six months I got this position and I'm very interested in working with data so I like this position very much.
What would you suggest to people who want to also be a BI Developer?
I think if you want to be a BI Developer I think SQL is the most important thing. During my experience job-searching, every interview I had they asked for SQL experience, so I think that's the most important basic skill for you.
There's also many applications like Power BI Excel you can use so you should know a lot of applications, not only SQL.
What is your point of view on local work experience?
Yes, I'm very happy I have this six months experience, because, as I've just mentioned, I'm a graduate student and I have no work experience.
You can learn a lot from University, but you'll find when you go into the industry there's a gap between the University knowledge and the real-world skills, so Industry Connect helped me to fix this gap.
What would you say to people thinking of joining Industry Connect?
I just want to say if you are joining Industry Connect you have don't worry about your future because this organization will help you to look for job and start the beginning of your career.
How did Industry Connect help you with your career?
Some people in this industry will have no idea about things like CVs, how to find a job and even the interview questions.
I think the people in Industry Connect, like Justin, they were happy to help check your CV and help you practice the interview questions. They were really helpful and I appreciate it.
Thank you for your time Tristan and congrats again on the new BI developer job!
Come and talk to us if you're a recent uni graduate!
If you're a recent IT graduate from University who has spent years getting a degree only to find they can't get a job, then come and talk to us at Industry Connect.
Juanita Strydom, the General Manager of Industry Connect, will be online on Wednesday evenings, 7:00 pm NZ time, 5.00pm Australia Eastern Standard time and 8:00am UK time.
Joining her will be the Industry Connect team members, as well as the owners of successful software companies, all of whom are ready to answer any questions you may have.
The gang will explain who we are, what our programmes are, and how you can join us.
To secure your seat in the info interview session, simply click here and fill out the form and we'll be in touch to confirm your invitation!
Your new career as a BI Developer is just around the corner!
---
What is Industry Connect?
Industry Connect is a Software Career Launchpad that has everything you need to kick-start your software career in AU, NZ, SG and UK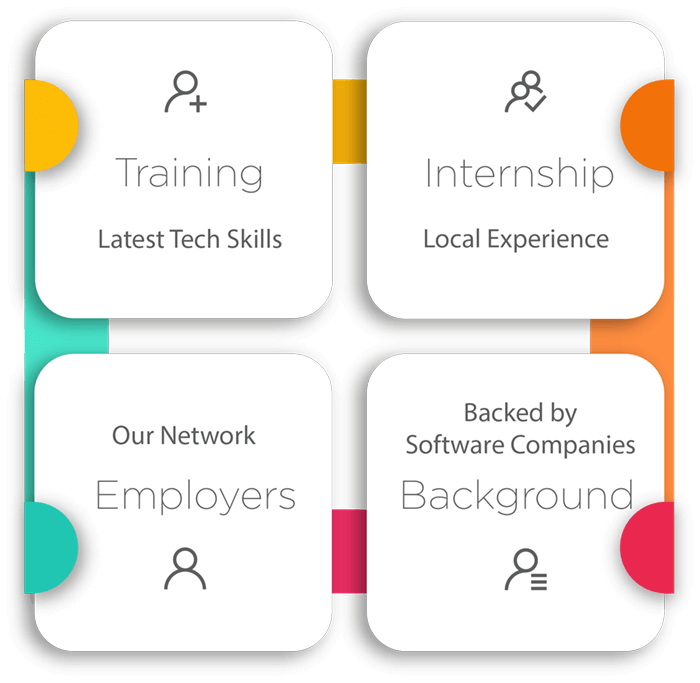 Our ecosystem
We have been helping career changers(software), recent IT graduates as well as people with career gap to start their software careers. Our Job-Ready training programmes focus on software development, business intelligence and test analyst.
Over the years, we have helped hundreds kick-start a software career(Verifiable evidences are available on this website)
OUR CORE
We are an innovative software training school backed by local software companies. Our ecosystem is an incubation process that supports our participants until they launch a tech career.
Watch 200+ Stories of Career Starters in Software
Click the image to watch those who changed their careers to IT, had gap years and recent IT graduates.