"Honestly, I would not have been able to do this without you, so this is where it started. This was everything."
Lynn is our latest success story here at Industry Connect! Come take a look at how she went from being a teacher to a BI Analyst!
First of all, congratulations on your new job as a BI analyst Lynn! Can you tell us a little bit about your background and experience before joining Industry Connect?
Prior to coming to Hong Kong, I was in IT. I was a Junior Software Developer, but at that time, my career remained very second and then in terms of growth, I thought okay, I had an opportunity to come to Hong Kong and then I thought, for the new experience and exposure, seeing what it had to offer, let me do it! Why not?
I'm going to see what it's like. I came just in time for this pandemic so things remained quite stagnant for a while. I've been teaching, so I was out of the industry for quite a while, but one thing I did know is that I didn't want to go back into development, but, I wanted to be in IT – I wanted to be in analytics. So, then this opportunity came along. Then I thought okay, this is basically speaking to me because I have not been in my field for a while. I want to refine my skill set as well, but I need the practical experience as well.
Then I thought, okay, this is perfect. So, then I was a developer for two years in South Africa, came to Hong Kong, where I've been teaching for two years. Now, I'm going back to South Africa and I've got this position as a BI Data Analayst.
How did you actually come to find out about Industry Connect?
I think it was social media. It was on LinkedIn if I'm not mistaken. It popped up and I went through it. Or it was on Facebook – one or the other. Then, I went through it and I got in touch with you, I believe. You were the person I spoke to. I was not sure because I thought oh my goodness, the timing, and everything. I know I need to do it – I just don't know when or how I'm going to put this into my schedule. Then, after I had that conversation with you, and you assured me that look, you can actually – it's doable if you have a full-time job. Which, I do. You are able and you can fit this in. You can do it. So yeah, that's how I found out and that's when I started pursuing it, after my conversation with you and seeing it on social media as well.
How did you find the 6 week remote learning programme?
It was, I won't like, I will say it was challenging, but it was doable. Obviously, it depends on your self-discipline. If you know why you're doing this in the first place and you go in with that mindset of knowing okay, this is going to be tough, you're going to manage it and you're going to make it work. So, I found it to be very informative. I did it after work. So, I would work until… I'd come home at eight o'clock and I'd start at nine. I'd start catching up around that time. So, that's when I did it and over weekend and things, but I felt like the tutors were amazing. They assisted me where they could and I found it to be very informative. Obviously, you need to study. You need self-discipline. And you need to work on your own as well, but in terms of the guidance, I think it was actually really efficient as well.
If there's one piece of advice you want to give someone who's considering or who's worried about remote learning, what would it be?
It would be that self-discipline is definitely necessary. Utilize the resources that are available to you because, at the end of the day, that's what you have. If you're remote, it's not no man is not an island in this case because you're not on your own. You have to have the ambition hub. The group of people that your start with, luckily I was in a really good group, so everyone helped one another. There are numerous platforms. You have the opportunity to engage and if you're unsure, there's assistance. So, yes, it's not easy, but it challenges you and it pushes you. And I think, ultimately, that's the only way to grow, if you put yourself in those uncomfortable positions and you work that – that's ultimately what it comes down to. And you will reap the benefits. Just work hard and be consistent.
I think that's one thing I appreciated about this course and that I would say it was a surprise, but a pleasant surprise in the sense that it's kind of a holistic approach to your progression. So, I think your sessions, the career, the global talent ability and employability. That in itself, there were so many things that, I mean, I've been in the workforce and things that I picked up on and thought wow, okay, like that really helped me and it's, I think, in that sense what I appreciated. That it gave you different elements of things you didn't even really know you needed until you actually got and you thought ah, this will help me, I did not know that before, So, I think in that sense, that was the pleasant surprise.
So, on that note, Lynn, could you maybe share a little bit about how you found the tutors, the Slack community, and any help that you wanted? You mentioned earlier that the tutors were there to actually guide you, here and there, but in terms of Slack and the tutors and the whole community in general, how did you find that?
Oh, I found them to be incredibly helpful. I think I can speak for a few people, for myself rather, I was in the position with the majority of my team or the group of people that I started with, they could attend the live sessions, but I never attended because I had my classes, but I worked during that time. So, I think that, in that case, even though I was not there, I could still speak to them, I could speak to my team members. If had an issue with one of my programs or things were not working, I could message one of the tutors as well. He was very helpful. So, I think that different channels and things, it's a very supportive group as well because ultimately, we all want the same thing. We're trying to uplift ourselves and we want to see growth within ourselves and our community members. We're all striving for the same thing. So, in that sense, it's kind of, we speak the same language and want to grow. So, everyone helps one another where they can, which is really great.
What would you say was the best highlight for you in the duration of your program?
I liked the different sessions. This is unbias completely because I know I spoke to you before, I really appreciated that as well, I enjoyed it. So, I think it's not just all work and that's all it is. You shouldn't think of this program as, okay, no, I'm just going to be coding all the time or I'm going to be having to extract data all the time. Yes, there's that part of it, but there's a lighter side of it as well, where it's like just things you can learn. Like life skills you can apply to everyday life as well. I think that was the nice part. There is a nicer part to it, too. I really enjoyed it personally. So, I'm assuming, I would hope that most people do as well.
What advice would you want to give someone who was thinking about entering the IT industry?
One thing that I would say is to do your homework. Know what the demand is out there. Look at what the demand is and how relative what you are doing is, and then you would see, even with this in Industry Connects, they speak to that. Look at whether it's ticking off boxes when you're entering the workforce. If you want to be in IT, you need to accept that you're going to work hard. You're going to work consistently, and you need to love what you do because if you can see yourself getting lost throughout the day, you need to be focused, but you need to enjoy what you do. Don't let the noise distract you of oh it's the tech industry and the bells and whistles, don't think about that. It comes down to actually sitting with the code and sitting with the work. You need to ask yourself and if the answer is yes, I can do it, then you need to pursue it as soon as you can because it's a fast-growing industry as well.
Well thank you for your time Lynn and congratulations again on your new job as a BI Analyst!
No, thank you so much! I appreciate everything. Thank you for the whole team. Thank you to the team, MVP Studio, and the Industry Clinic. Honestly, I would not have been able to do this without you, so this is where it started. This was everything. So I appreciate it. Thank you so much.
---
What is Industry Connect?
Industry Connect is an IT/Software Career Launchpad that has everything you need to kick-start your IT/software career in AU, NZ, UK, IE, SG, HK, IN, ID, VN & PH.
Industry Connect's Ecosystem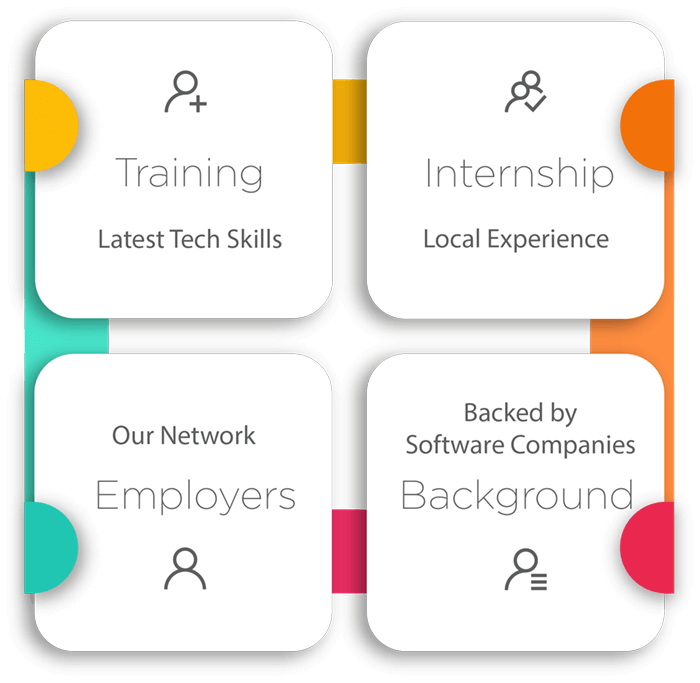 We have been helping career changers, recent IT graduates and people with career gap to start their IT/software careers.
Over the years, we have helped hundreds kick-start an IT/software career. (Verifiable evidences are available on this website)
OUR CORE
We are an innovative software training school backed by global/local software companies. Our ecosystem is an incubation process that supports our participants until they launch a tech career.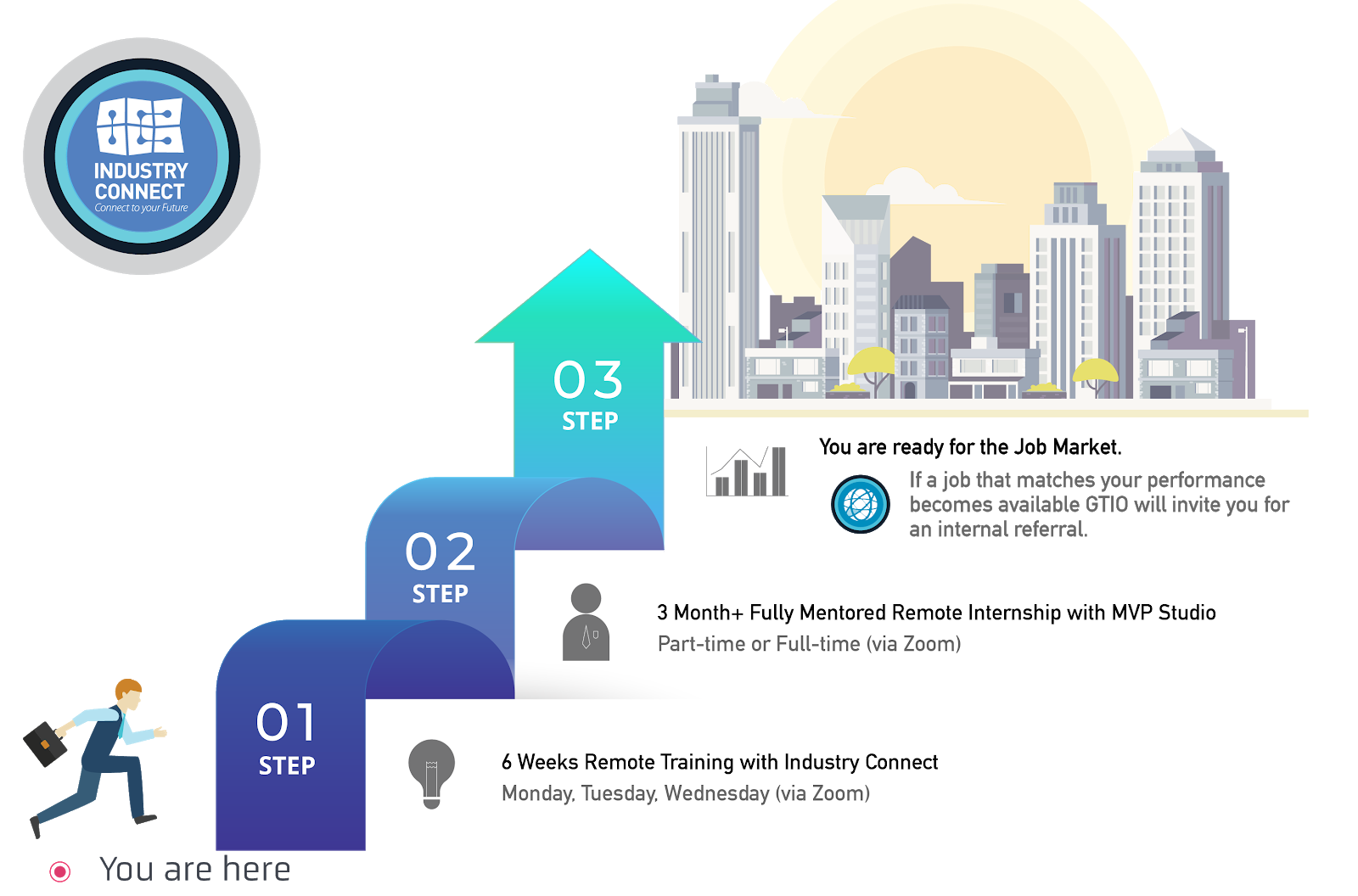 OUR PROGRAMMES
Our Job-Ready training programmes focus on,
Software Development
Business Intelligence (or Data Analyst)
Test Analyst
PROGRAMME STRUCTURE
Six Weeks Training Classes (Practical Tech Skills)
Three Months (or more) Structured Internship on Large Commercial-Scale Projects (Learning enhanced, flexible Hours)
Employer Network (job analysis and internal referral if goals are met)
You can join us via Zoom (live face-to-face meeting) remotely from anywhere and "download" the valuable knowledge & experiences from our tech experts across different tech centres.
Watch 300+ Stories of Career Starters in IT/Software