I would definitely recommend Industry Connect to people without any experience – people definitely require working experience in New Zealand.
Software development is a profession in which both men and women are equally suited, but unfortunately, the statistics don't show equal employment in the industry.
Here at Industry Connect, we are fully aware that the gap in those statistics needs to be addressed, and our record speaks for itself when it comes to equal opportunity.
Gurjeet is another example of our dedication to women in the IT industry. She came to us, went through our process, and now has started her job as a software developer at LuminateOne.
We caught up with her to ask her about her time with Industry Connect.
Congratulations on the job! Tell us, how did you feel when you got it?
When I got the job offer – it was actually an email– I was so happy, so, so happy because it was my first job in New Zealand. I had been waiting for that news for around one year because I finished my studying August and from January I just started my internship with Industry Connect. When I got the job offer it's really an amazing, amazing day for me, it's really an amazing experience just to listen to that news – it's really good news.
So how did Industry Connect help you?
I believe that Industry Connect is really a good place for people to enhance their technical skills along with their personal and soft skills as well, because this is a platform which provides opportunity to grab the technical knowledge. Industry Connect running are so many sessions along the way, like an employment session to learn and grow sessions where people can show their soft skill sets.
I have a confidence in my technical skills but sometimes I'm shy or sometimes I have trouble talking to people because I've just recently come to New Zealand so really it's helped me to enhance my confidence as well to talk with other people.
I really learned about the New Zealand work culture because I didn't know about the team structure and how they are working at the team working culture I learned from Industry Connect.
I finished my master's degree but I'm not familiar about these tools and technology that the IT industry is using these days. Here I learned so many tools and technologies like Reactive Java, Script Java, Visual Studio and others.
I learned a lot, especially from the technical perspective sessions as well. These sessions also helped me a lot because I attended these sessions and I believe that this session is really helpful for other people to facing their interviews because I know one thing; most of the companies in New Zealand are using the same technical test for all candidates. Those sessions were really beneficial.
I learned so many things with Industry Connect, and  I've got a friend circle from here. It's really helped me enhance my friend circle in New Zealand and it's really a good place to learn so many things.
Would you recommend Industry Connect?
Yes, I will definitely recommend Industry Connect to people because it's a great place to learn so many things so and I believe that I was not able to get the job without the help of Industry Connect because I tried applying for jobs, but didn't get any.
I realized at the very beginning I didn't have any New Zealand experience and I when I came to New Zealand I hear the one line from so many people – New Zealand prefers Kiwi CV and Kiwi experience!
So I believe that I learned these two things from Industry Connect; Kiwi CV because you are providing the help in preparing CVs and kiwi experience as well.
I will definitely recommend Industry Connect to people without any experience, or even if they have experience back in India or in any country.  I will definitely recommend to those people especially, because every job – no matter how much experience from other countries they have – will definitely require experience in New Zealand.
It might be for six months or a year, or maybe even continuous work for the same company for 2 or 3 months, but people definitely require working experience in New Zealand.
I believe that it's a really a good place to learn to start their IT career in New Zealand.
We'll always help women in IT!
The software industry should always be a level playing field. As a company, we will always help women in IT achieve their dreams.
If you want to launch your IT career, then come and have a chat with us at Industry Connect and let's see how we can help.
Juanita Strydom, the General Manager of Industry Connect, will be online on Wednesday evenings, 7:00 pm NZ time, 5.00pm Australia Eastern Standard time and 8:00am UK time.
Joining her will be the Industry Connect team members, as well as the owners of successful software companies, all of whom are ready to answer any questions you may have.
The gang will explain who we are, what our programmes are, and how you can join us.
To secure your seat in the info interview session, simply click here and fill out the form and we'll be in touch to confirm your invitation!
---
What is Industry Connect?
Industry Connect is an IT/Software Career Launchpad that has everything you need to kick-start your IT/software career in AU, NZ, UK, IE, SG, HK, IN, ID, VN & PH.
Industry Connect's Ecosystem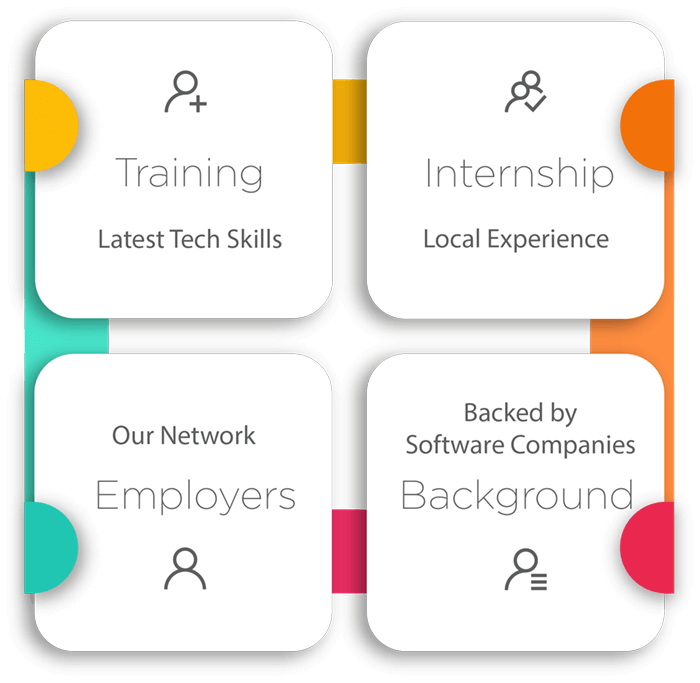 We have been helping career changers, recent IT graduates and people with career gap to start their IT/software careers.
Over the years, we have helped hundreds kick-start an IT/software career. (Verifiable evidences are available on this website)
OUR CORE
We are an innovative software training school backed by global/local software companies. Our ecosystem is an incubation process that supports our participants until they launch a tech career.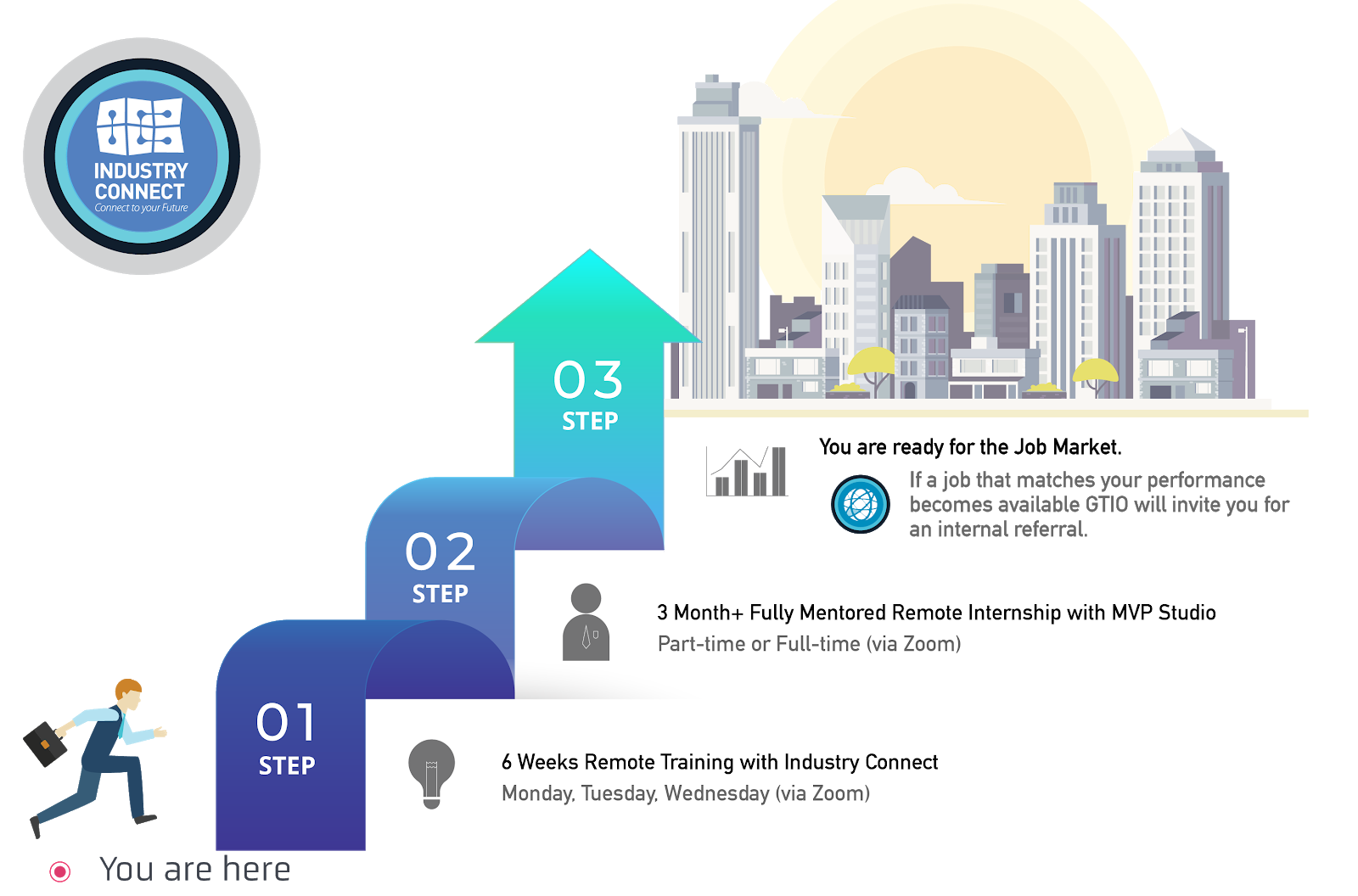 OUR PROGRAMMES
Our Job-Ready training programmes focus on,
Software Development
Business Intelligence (or Data Analyst)
Test Analyst
PROGRAMME STRUCTURE
Six Weeks Training Classes (Practical Tech Skills)
Three Months (or more) Structured Internship on Large Commercial-Scale Projects (Learning enhanced, flexible Hours)
Employer Network (job analysis and internal referral if goals are met)
You can join us via Zoom (live face-to-face meeting) remotely from anywhere and "download" the valuable knowledge & experiences from our tech experts across different tech centres.
Watch 300+ Stories of Career Starters in IT/Software